What is Music for Journaling?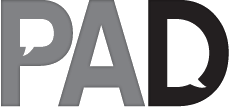 Music for Journaling is a participatory audio composition created for Public Art Dialogue, Issue 2:1, "Audience Response". I was asked me to create a new piece specifically for the journal, so I decided to make something that collects people's reactions to the journal and incorporates those comments into a piece designed to be listened to while reading the journal.
Click on the LISTEN and SPEAK tabs above to participate.
Here are excerpts from a brief description of the piece that is included in the print journal:
Music for Journaling is a participatory audio installation designed to be experienced in conjunction with this journal. It is an audio environment containing music inspired by this journal mixed with spoken-voice commentary recorded by journal readers across the globe. The piece will continuously evolve as participants record their thoughts and react to those of other readers as well as the content of the journal itself. All responses are immediately assimilated into the musical composition for everyone to hear.

PAD is about sharing ideas and creating a critical community focused on public art and its role in society: Music for Journaling is a piece of public art created directly from these ideas and this community. Participant commentary will continually be added to the piece and will be algorithmically folded into an ongoing global conversation about the content of the journal and about public art in general.

The piece begins its life with only instrumental music and as more people add their comments this audio landscape will become increasingly populated and more non-linear dialogues will be created. New sequences of voices are generated in real-time, allowing for endless juxtapositions of the musical and spoken elements. Participants' recordings are randomized and played back almost as a collective stream-of-consciousness designed to be akin to jumping inside of the minds of numerous other readers – from places near and far – while contemplating the same texts, pictures, and ideas.
Special Thanks:
To
Raphael Arar
and
Zak Burke
for their web development efforts helping to create this site.
Additional Information:
Music for Journaling is supported in part by a grant from the Bedford Cultural Council, a local agency which is supported by the Massachusetts Cultural Council, a state agency.