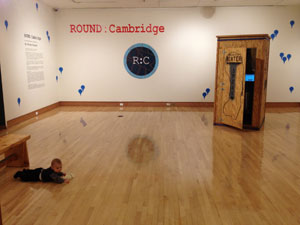 After several years of discussions and a year of beta availability, my site-specific sound art installation ROUND:Cambridge has officially launched.
ROUND:Cambridge explores the city of Cambridge, MA through music and evolving participant commentary. The installation 'inhabits' the entire city by creating a location-sensitive layer of audio consisting of a musical composition along with commentary recorded in-situ by participants. Each participant experiences a continuous, unique, real-time audio stream as they walk, weaving location-specific voice content in with a location-aware instrumental composition.
This piece was commissioned by the Cambridge Arts Council and there is an accompanying gallery installation, but the piece is only truly experienced by wandering the streets of Cambridge with the free ROUND:Cambridge Android or iOS app in hand.
Here's a short audio sample: